A little peace of mind goes a long way.
---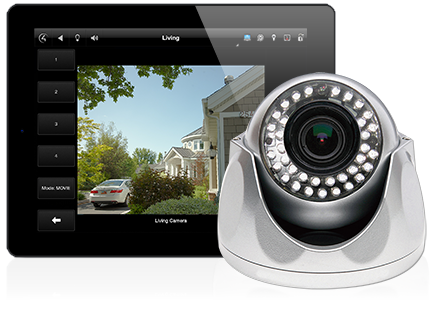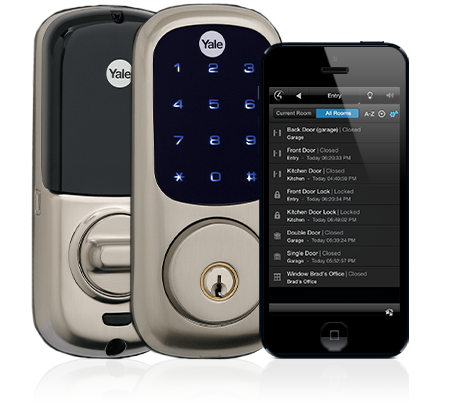 Protect your home or business by integrating smart locks, lighting, sensors, security cameras, network video recorders, security panels and monitoring systems so you can keep an eye on your home 24/7.
Popular Products:
Security Cameras
Security Integrations
Door Locks
Card Access
Popular Solutions:
From 4 to 16 cameras with a DVR to record the cameras 24/7 and enable remote camera viewing at anytime.
Smart door locks are convenient and allow you to provide access to your home without you giving away your key. These systems can also text you to let you know who and when someone enters your home.
Your security system can also be controlled via one system. You don't have to have a separate app for every system in your home.
Our Benefits
1 YEAR INSTALLATION WARRANTY
EXPERIENCED A/V PROFESSIONALS
BACKED BY 1,000'S OF TOP BRANDS
PRICE MATCH BIG BOX RETAILERS
KS Audio Video did an outstanding job on making our vision into a reality. They understood what we were trying to accomplish and designed a system with Control4 that gives us more functionality than we had planned for. They have been excellent in ensuring that the system continues to run and that all the small details were completed before we signed off on the whole project. I look forward to the expansion and add-ons in the future and will be sure to give Nathan and his team my business for years to come.

- Unkown User

Wanted to give you some (very good) feedback on the installation at my house today. First, the initial visit by Titus was terrific. Not a hard sell at all, and yet he subtly suggested a Sonos System to help resolve my stereo issues. Titus was so subtle, so thorough, and so convincing that I agreed to get one! Overall, I was really impressed with Titus' timeliness and knowledge and enjoyed spending time with him. Jack and Jim showed up for todays installation and more than met my expectations! They were absolutely terrific - also friendly, knowledgeable and efficient. They worked fast and hard, and took time to answer my silly questions. The end result is a system that I'm very happy with. The TV works great and receives all the channels I want. They installed the sound bar to perfection, which makes the TV system much better. The Sonos system is fantastic (they helped me download the App and showed me how to use it) and I now have sound .

- Greg 4376

I have been using KS Audio Video for my AV, IT and Technology needs for over 5 years now in both my office and home. They have installed TVs and computer monitors, computers, network routers and WIFI hotspots at my office and trouble shooter more than I could imagine. At home I have had everything from TVs to Control 4 home automation to surround sound systems done by them and I have to say I love the fact that they take care of you with personal service, good fair pricing and great warranty / tech support! If you are interested in new home audio/video purchases from as simple as an Apple TV or Satellite install to as complex as home automation and multiple flatscreen TVs mounted, they can handle it all and you won't find better service. If you go to HH Gregg or Best Buy and try to do it yourself, do yourself a favor and hire KS for almost the same price and let them handle everything for you - including the aggravation factor!!Thanks KS Audio Video for a great job taking care of my business and family technology needs.

- Akiba Green

The entire crew at KS Audio are knowledgeable, personable and stand behind what they do. During a recent installation, some modifications were necessary and they managed the challenges while staying on target with the project. Each team member seemed very knowledgeable/familiar with the plan even though it seemed pretty complex to me! The most impressive part was the responsiveness to trouble shooting afterward. This is not a fly by night operation. If you want to make an investment in home automation or simply get some TVs installed that work, this is the place for you. I understand how important customer service is, and KS Audio hits the mark. Don't miss an opportunity to see what they can do for you...

- Christopher Harris

KS Audio Video did an outstanding job on making our vision into a reality. They understood what we were trying to accomplish and designed a system with Control4 that gives us more functionality than we had planned for. They have been excellent in ensuring that the system continues to run and that all the small details were completed before we signed off on the whole project. I look forward to the expansion and add-ons in the future and will be sure to give Nathan and his team my business for years to come.

- Jeff

We first used KS Audio Video about 4 years ago when we needed to change the way DTV was installed at our house and it was way too complicated for DTV to do themselves. We had been told what we wanted to do was not possible becuase of the way our house was originally wired, but KS was able to make it function the way we wanted without tearing out walls or rewiring everything. Since then we have used them for two big projects and several smaller ones. One of the applications we use the most is having four inputs (DTV, DVR, Bluray, Apple TV) be controlled by one system (Control 4) that we can access via remote, computer, ipad, etc. This inputs can be watched on any or all of 4 outputs and the sound and visual is controlled together. Their technical knowledge is top notch, and their customer service is very strong. If we have a problem, I know they will respond in a timely manner and have someone out here if necessary to find a solution. I trust their techicians as well and they know our family. Little things like laying out a blanket to protect the carpet with parts on the floor, making sure our dog does not disappear with wires, etc, go a long ways into building a good customer relationship.We have recommended them to several family members who have also been happy with their work and customer service. They can do basic and specialty work. At my mother-in-laws, they installed a TV that looks like a mirror when not in use and hid the speakers in the wall. At our conference center, they installed a large visual system supported by speakers hanging from the ceiling with a controller that can use multiple inputs (computer, ipod, ipad, etc).It's refreshing to find a business that meets or surpasses expectations on technical knowledge, getting the job done correctly, and great customer service.

- Cindi

Titus and his crew over at KS Audio Video are the best guys to work with. They have the best and latest equipment and can solve any Audio/Video issues you have, commercial or residential. I highly recommend them if you are looking at upgrading your equipment or buying a new home.

- Sandy McAlpine

KSAudioVideo takes care of all your audio/video needs. They advertise that they have invested years of process, systems and training with many more years of experience in installing all ranges of products in the field of Audio, Video, Networking, and Satellite TV. They have the knowledge and skill to deliver a turn-key solution. They say that there will be no surprises....GUARANTEED! My experience is that they fulfilled all their promises. Excellent business; I highly recommend them.

- Vickie Stevens

I have used KS to install my Control4 Home system (Which works well) and most recently had them install a Direct TV system for our 4 televisions. They do an excellent job, very responsive, very professional. Direct TV is working great and installation was clean and fast.I have had some issues in the past (mostly my own fault) and they have been quick to respond and solved the issue with the one visit.They really act like they want your business....Good People!

- Brendan Dawson