Meet the Crew!
---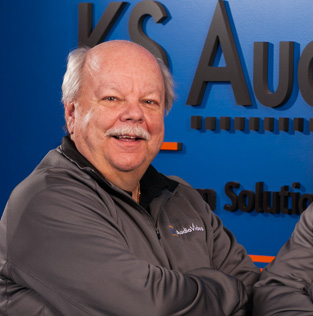 Ken Ziegler - President
Born and raised in Buffalo, NY, I graduated with a B.A. in Economics and a M.B.A. in Finance. In 1986, my wife, Sabrina, and I, along with my two boys moved to Baltimore, MD. In order to watch my Buffalo sports teams, I bought my first satellite system and learned how to install the satellite myself. This experience led to the birth of Ken's Satellites. Later, we moved to Concord, NC and grew the business to 6 employees. As the large satellite dish declined in popularity and both DirecTv and Dish Network as well as audio video services expanded, we renamed our Company to KS Audio Video Inc. Today, with our showroom in Cornelius, I am proud to say our Company has expanded to 14 employees. In 2014, we had our best year ever and with our current staff, we are prepared for an exciting future!!
Nathan Ziegler - Vice President
I am blessed to come to work each day with the most talented and hardworking people I have ever met. I have a passion to provide exceptional customer service, utilize technology in as many ways as possible, and create a healthy, family-oriented working environment for my team. I find the ever-evolving world of technology, audio and video exciting and challenging. When I am not attached to my phone overseeing the day-to-day operations of KS Audio Video, I enjoy spending time with my wife and 3 children Bryson, Avery, and Asher. I live on Lake Norman, so I have an appreciation for the lake life, boating, swimming, jet skis, and cooking anything I can put on a grill or in a smoker.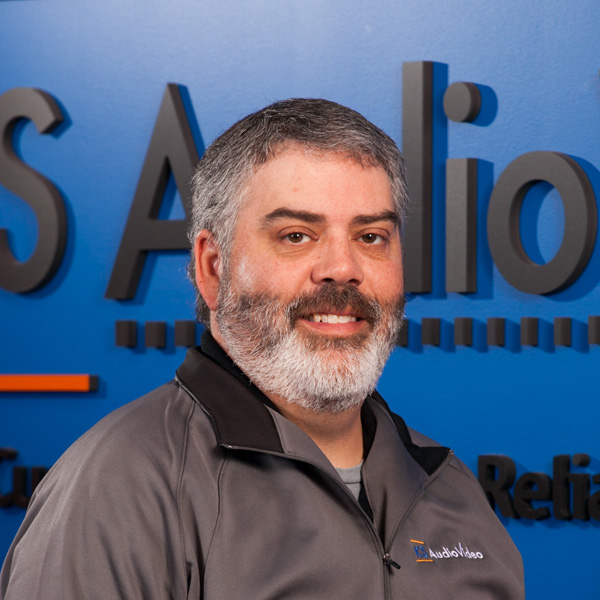 Tony V. - System Designer / Commercial Sales
I have over 12 years of experience in the Satellite industry. I have worked in the Audio Video industry for over 3 years now. Working with KS Audio Video has been a wonderful experience. It has allowed me to improve my job skills and the ability to learn something new every day. My role with KSAV is to receive work orders each day and perform the scope of work I am given. I do this for new installations as well as service related work. I am trained and certified in both commercial and residential applications. I lead many work orders that fall into my area of expertise of Direct TV and Dish Network. I also work with our team on networking, wire fishing, TV mounting, and different areas of audio. I enjoy spending my off time with my fiancé Lara and my dog Jerry. I love the outdoors, and camping with my family is something I truly enjoy. Disc golf and listening to live music are also things you will find me doing whenever I am able.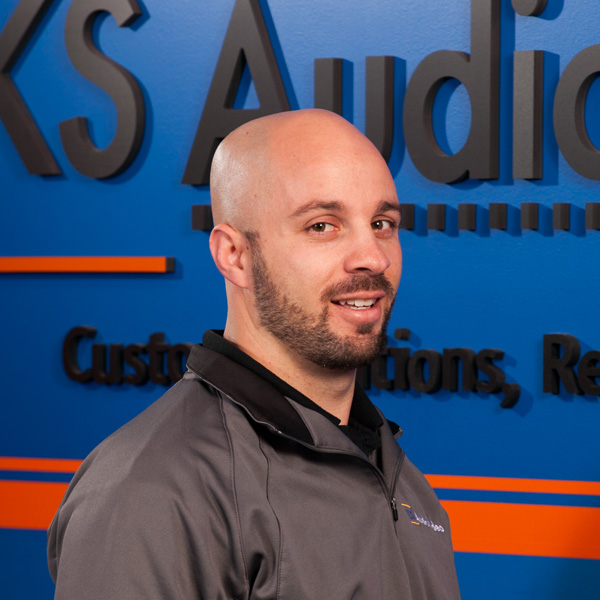 Jacob P. - Project Manager
I was born and raised in the Tidewater area of Virginia where everything revolved around the Chesapeake Bay, from food to weekend activities. I moved to the Charlotte area in 2012 with my wife and 2 children and have enjoyed the area since Day 1. I am an avid Panthers fan and love good food making Charlotte a great place to live. I entered into the industry in 2006 after graduating from college and have not looked back since. I enjoy the ever-changing climate of the industry and the challenges it presents. To this day, I still appreciate well executed installs of a simple TV over the fireplace to fully automated homes including lighting, climate and audio/video control. I have extensive experience in retro-fit installations, home automation, whole-home lighting, and home networking. I have also been involved with large scale commercial structured cabling as well as conference room integration. I hold several manufacturer certifications and am always looking to learn about the latest and greatest technology.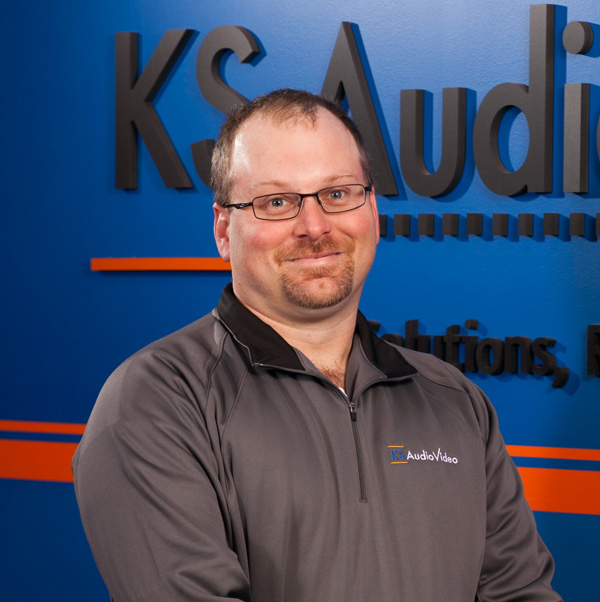 Ryan H. - Field Technician
I live in the Lake Norman area of Charlotte NC. When I started in this industry, I was a satellite technician only. After doing that for many years and bringing both Direct TV and Dish Network to many residential homes, I decided to come on board with KS Audio Video. I have worked here now for over 5 years. Learning more each year, I have become a senior technician for KSAV. I'm trained and work in the home theater, networking, surveillance, TV mounting, and remote programming sections of our Industry. I am certified in both Control 4 and Universal Remote Control. I am also certified in Direct TV and Dish Network. My field of expertise still lies with Direct TV and Dish Network for residential and our commercial customers. I love to give back and for that reason I donate some of my spare time each month to a local charity. I enjoy hanging out with my dog Ginger, and kayaking with my fellow co-workers and friends. Spending a few years in the food industry created a passion for cooking, so I do like to get on the grill when I can.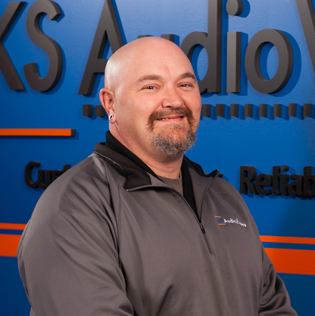 Bryan T. - Field Technician
I am originally from Springfield Missouri, grew up and lived there for 23 years. I have five children ranging from 6 to 19 years old and raise them with my wonderful partner, Heather. I am a huge St. Louis Cardinals fan and thoroughly enjoy baseball in general. Being outdoors in the spring time is probably one of my favorite things to do. I am a SBCA certified DirecTv technician and have been doing DirecTv for over six years. I recently came to KS audio video with high expectations of a good family owned, local business, and every expectation has been exceeded! I truly do enjoy the customer experience, the opportunity to make someone's life that much better or easier, truly does have it's rewards! I look forward to assisting you in all of your audio video needs in the near future.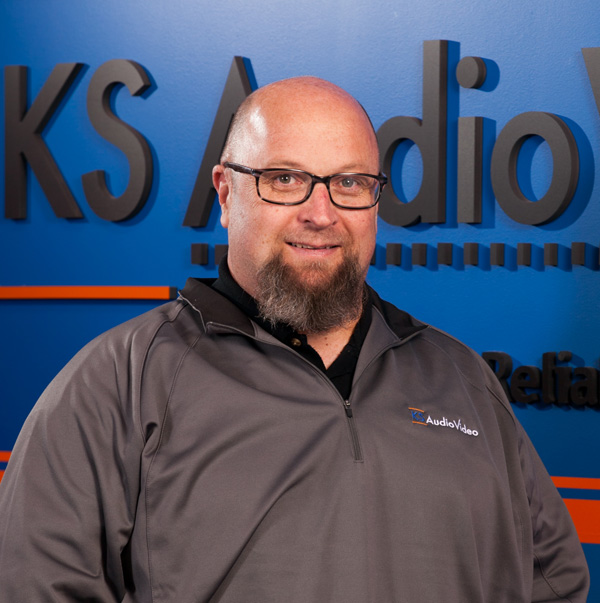 Jay T. - Field Technician
I am a transplant to the Lake Norman area since 1999 and I enjoy spending time with my family which includes two great children. Working in the Audio Video industry now for over 10 years, I bring a wealth of knowledge to KS Audio Video each day. I am trained in all aspects of a variety of technologies and installation techniques. This includes surveillance, networking, TV mounting, Home Theater, Whole House Music, and the Programming of many different systems. Each day when I see my work orders, I look forward to accomplishing them and ensuring the customer is happy. I enjoy working hard for our customers. Providing customer service and an impeccable work ethic allows me to be a favorite among our customers, and this is something I always want to continue. Before getting into this industry I worked in transporting; I provided high end vehicle transporting for NASCAR teams. This allowed me to enjoy parts of the racing world like off road racing! Wood working and fishing are two things I enjoy in my free time.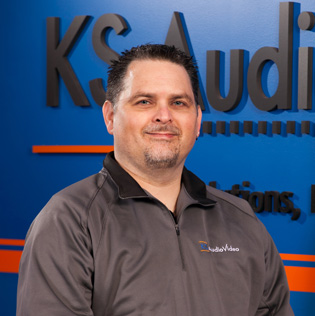 Jeremy T. - Field Technician
I was born and raised in West Virginia. My passion for music started my audio career by attending a Recording Engineering School. After graduating I moved to Virginia Beach and worked as a live Sound Engineer for local, regional and national bands. In 2001 I moved to Tampa, Florida and transitioned into the Home Theater business. I started my employment there with one of the two top companies for high-end clients working on anything from small beachfront condos to 28K sq ft homes. After moving back to West Virginia and working for myself, I decided I wanted to go somewhere with more opportunity. So here I am. I love working with Audio Video because each day can bring a new situation and a new challenge. I also love seeing the smiles on clients faces when they see the final product. When not working I love to be outdoors, camping, biking or going fishing.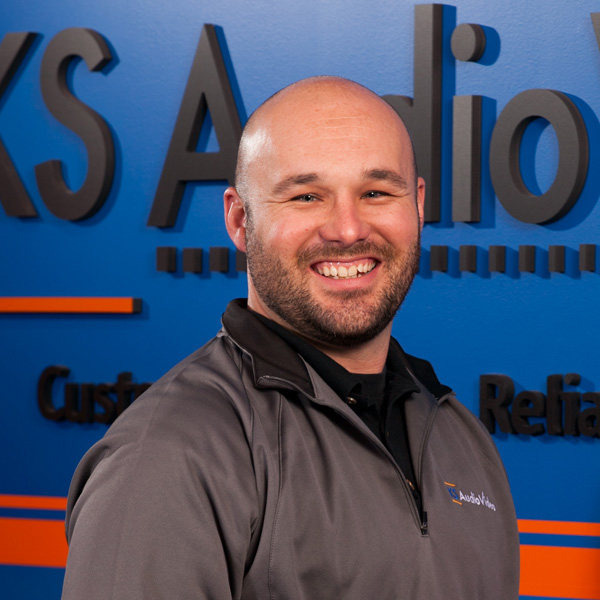 Christopher S. - Field Technician
I have been in the Audio Video industry for the past thirteen years. I moved to North Carolina at the beginning of 2016 from Los Angeles, California. I worked on many big commercial and residential jobs where I developed my passion for this career. Working in all positions starting from Installer up to Project Manager and even Field Supervisor, has made me a versatile employee for this industry. My role and commitment to KSAV is to provide stellar customer service and to utilize my exceptional eye for detail to make sure all the jobs are completed to the customers satisfaction. I enjoy utilizing my expertise and certifications in Control 4, Savant, and URC. Programming systems has been for many years a passion of mine so coming to work is something I enjoy. I like watching football, cooking for the family, and any projects around the house I can get my hands on. I feel very honored to be working with such a great group of people here at KSAV.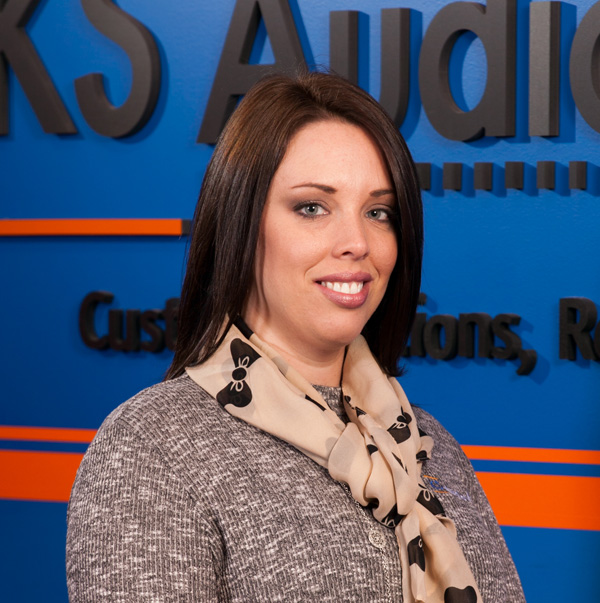 Jeniefer H. - Office Manager/Accounting/HR
I am a Northern transplant from Pennsylvania, living in North Carolina for the past 14 years. I have been doing accounting/bookkeeping since 2003. I enjoy being the go-to person when something needs to be done, big or small, and interacting with customers who need a problem solved quickly. I manage our office team and am responsible for our billing department and general administration duties. I have also learned that a helpful and consistent person to take the load off an owner is the best asset you can give to an employer. I have really lucked out with my career here. When I am not working I am spending my days with my husband, my step-son, and our two awesome dogs. We enjoy going to the beach as often as possible, and love hiking. We are huge movie goers and enjoy checking out local breweries and finding the best food in town!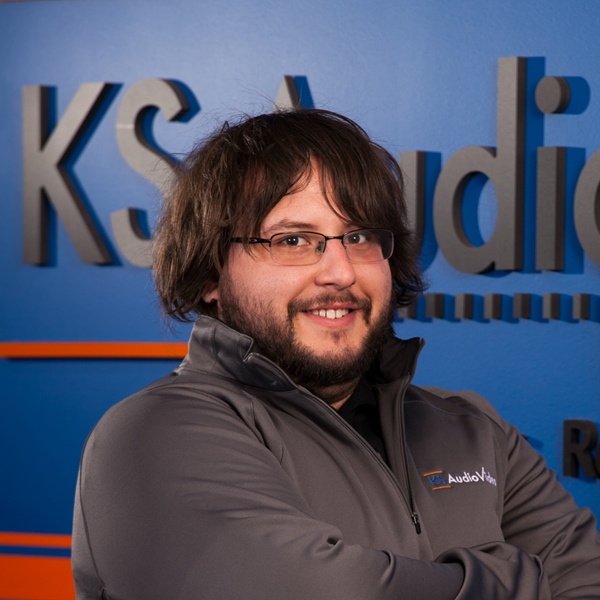 Alexander Myers – Managed Services Coordinator
I was born and spent the first several years of my life in Fort Lauderdale, FL. I have lived in Concord, NC for the last almost 20 years. I graduated with a double B.A. in Political Science and Dramatic Arts and a minor in Medieval and Early Modern Studies from the University of North Carolina at Chapel Hill- Go HEELS! I then graduated from the University of Richmond School of Law with a Juris Doctor and passed the bar to become a licensed attorney in North Carolina. After working in the field for a year, I realized my passion led me to audio video services and my family's company, KS Audio Video. I am excited to join the family business and start a new chapter of excellent service with KS CARE!
The entire crew at KS Audio are knowledgeable, personable and stand behind what they do. During a recent installation, some modifications were necessary and they managed the challenges while staying on target with the project. Each team member seemed very knowledgeable/familiar with the plan even though it seemed pretty complex to me! The most impressive part was the responsiveness to trouble shooting afterward. This is not a fly by night operation. If you want to make an investment in home automation or simply get some TVs installed that work, this is the place for you. I understand how important customer service is, and KS Audio hits the mark. Don't miss an opportunity to see what they can do for you...

- Christopher Harris

KSAudioVideo takes care of all your audio/video needs. They advertise that they have invested years of process, systems and training with many more years of experience in installing all ranges of products in the field of Audio, Video, Networking, and Satellite TV. They have the knowledge and skill to deliver a turn-key solution. They say that there will be no surprises....GUARANTEED! My experience is that they fulfilled all their promises. Excellent business; I highly recommend them.

- Vickie Stevens

KS Audio Video did an outstanding job on making our vision into a reality. They understood what we were trying to accomplish and designed a system with Control4 that gives us more functionality than we had planned for. They have been excellent in ensuring that the system continues to run and that all the small details were completed before we signed off on the whole project. I look forward to the expansion and add-ons in the future and will be sure to give Nathan and his team my business for years to come.

- Jeff

I have used KS to install my Control4 Home system (Which works well) and most recently had them install a Direct TV system for our 4 televisions. They do an excellent job, very responsive, very professional. Direct TV is working great and installation was clean and fast.I have had some issues in the past (mostly my own fault) and they have been quick to respond and solved the issue with the one visit.They really act like they want your business....Good People!

- Brendan Dawson

We first used KS Audio Video about 4 years ago when we needed to change the way DTV was installed at our house and it was way too complicated for DTV to do themselves. We had been told what we wanted to do was not possible becuase of the way our house was originally wired, but KS was able to make it function the way we wanted without tearing out walls or rewiring everything. Since then we have used them for two big projects and several smaller ones. One of the applications we use the most is having four inputs (DTV, DVR, Bluray, Apple TV) be controlled by one system (Control 4) that we can access via remote, computer, ipad, etc. This inputs can be watched on any or all of 4 outputs and the sound and visual is controlled together. Their technical knowledge is top notch, and their customer service is very strong. If we have a problem, I know they will respond in a timely manner and have someone out here if necessary to find a solution. I trust their techicians as well and they know our family. Little things like laying out a blanket to protect the carpet with parts on the floor, making sure our dog does not disappear with wires, etc, go a long ways into building a good customer relationship.We have recommended them to several family members who have also been happy with their work and customer service. They can do basic and specialty work. At my mother-in-laws, they installed a TV that looks like a mirror when not in use and hid the speakers in the wall. At our conference center, they installed a large visual system supported by speakers hanging from the ceiling with a controller that can use multiple inputs (computer, ipod, ipad, etc).It's refreshing to find a business that meets or surpasses expectations on technical knowledge, getting the job done correctly, and great customer service.

- Cindi

I have been using KS Audio Video for my AV, IT and Technology needs for over 5 years now in both my office and home. They have installed TVs and computer monitors, computers, network routers and WIFI hotspots at my office and trouble shooter more than I could imagine. At home I have had everything from TVs to Control 4 home automation to surround sound systems done by them and I have to say I love the fact that they take care of you with personal service, good fair pricing and great warranty / tech support! If you are interested in new home audio/video purchases from as simple as an Apple TV or Satellite install to as complex as home automation and multiple flatscreen TVs mounted, they can handle it all and you won't find better service. If you go to HH Gregg or Best Buy and try to do it yourself, do yourself a favor and hire KS for almost the same price and let them handle everything for you - including the aggravation factor!!Thanks KS Audio Video for a great job taking care of my business and family technology needs.

- Akiba Green

Wanted to give you some (very good) feedback on the installation at my house today. First, the initial visit by Titus was terrific. Not a hard sell at all, and yet he subtly suggested a Sonos System to help resolve my stereo issues. Titus was so subtle, so thorough, and so convincing that I agreed to get one! Overall, I was really impressed with Titus' timeliness and knowledge and enjoyed spending time with him. Jack and Jim showed up for todays installation and more than met my expectations! They were absolutely terrific - also friendly, knowledgeable and efficient. They worked fast and hard, and took time to answer my silly questions. The end result is a system that I'm very happy with. The TV works great and receives all the channels I want. They installed the sound bar to perfection, which makes the TV system much better. The Sonos system is fantastic (they helped me download the App and showed me how to use it) and I now have sound .

- Greg 4376

KS Audio Video did an outstanding job on making our vision into a reality. They understood what we were trying to accomplish and designed a system with Control4 that gives us more functionality than we had planned for. They have been excellent in ensuring that the system continues to run and that all the small details were completed before we signed off on the whole project. I look forward to the expansion and add-ons in the future and will be sure to give Nathan and his team my business for years to come.

- Unkown User

Titus and his crew over at KS Audio Video are the best guys to work with. They have the best and latest equipment and can solve any Audio/Video issues you have, commercial or residential. I highly recommend them if you are looking at upgrading your equipment or buying a new home.

- Sandy McAlpine